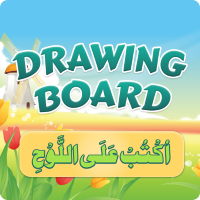 Drawing Board for kids is easy to use fun game for kids to draw their imaginations on a virtual white board.
- For enhancing children's drawing skills and to improve their creativity.
- Help children's to identifying colors.
- Child can save the drawings in .PNG format.
- Has eraser & Text Tools.
- Choose from more then 7 colors options.
!! Happy Drawing !! Enjoy !!
This is a platform provided to all children, with no boundaries and limitations to their minds. Here all the kids can draw whatever they want to draw and express their imaginations on the drawing board. Here we are also providing you the facility to save the document. So that the kid may save these memories with him/her selves.